Case
Simulating change management processes for the MMT program at Aalborg University
Strategy & Leadership - Training | Aalborg University MMT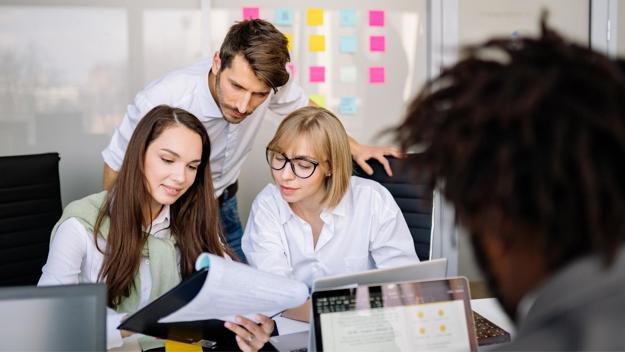 Another generation of the master's in management technology students at Aalborg University experienced our expert-guided hands-on simulation and workshop learning the essentials of managing successful strategic change initiatives.
Aalborg University (AAU) has provided students with academic excellence, cultural engagement, and personal development since its inception in 1974. Technologically based, the MMT program trains managers of the future and focuses on managerial and organizational frameworks for development and innovative change.
Challenge
In the pursuit of improving the MBA education and updating the toolbox of the MMT students within technology, change, project management, and innovation, Professor John Hansen invited Business Learning to challenge and inspire the experienced students with a strategic change simulation.
Approach
Business Learning has met every generation of MMT students for the last ten years at the end of their program with an interactive strategic change simulation and workshop. This powerful and exciting workshop enabled the future leaders and managers to practice implementing change by simulating life in the year of a team-leading a turnaround change initiative. Through careful application of change management practices, the group learned how to achieve their goals while effectively managing organizational change to build stakeholder commitment and lead the company to success. During the workshop, Business Learning also facilitated a session to explore the applicability of the theory in the students' projects.
Impact
The participants solidified a common language for change initiatives and built capabilities and confidence in managing a new strategic change approach. The participants also had to overcome the mental and performance barriers the workshop instigates whilst accelerating to understand the business imperative, engage key stakeholders, utilize the change model and tools, and motivate and mobilize the organization through implementation, tactics, and quick win experimentation.
Client Testimonial
"In the pursuit of constantly updating our practical and theoretical toolbox, Business Learning came to Aalborg University to add more practical knowledge into utilizing change management models.
Aron R. Schmahl from Business Learning facilitated an incredible GlobalTech change simulation and created an excellent engaging experience for all participants. The benefits of the workshop are the valuable insights and practical experience I was equipped with. I utilize the change strategies effectively and I keep using them now in my work life. I recommend Business Learning's services to anyone who needs a clear direction on how to successfully execute organizational change strategies for the best benefit of the company."
- Maya Kousholy Schmitt, MMT Student


"Business Learning created an excellent virtual experience via Teams and maintained full engagement from all the participants during the Global Tech strategic change simulation.
This powerful tool helped me explore and quickly apply change in a challenging business simulation and it was especially relevant for me, given that I study change management in my Executive MBA program. Aron was very nice to share his advice and experience with me, even after the completion of the program, thus setting the learned skills in perspective in real business tasks. I highly recommend this strategic change management simulation offered by Business Learning, especially when there is a need to successfully execute organizational change strategies."
– Uffe Hansen, Project Manager